About Us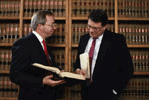 Forster-Long, LLC, publisher of THE AMERICAN BAR including The Canadian Bar, The Mexican Bar and The International Bar and THE AMERICAN BENCH: Judges of the Nation, is a company that believes in the power and integrity of information. Our editorial staff works year-round to ensure the information we produce is as accurate as possible.
The information we provide empowers people with information they might not otherwise have and provides insight into areas beyond typical directories. Our presence, here on the internet, is one that will continue to grow as we are able to bring more and more of our information to this environment.
We welcome feedback and interaction with our customers and users of our products. Comments and suggestions are appreciated.
We look forward to our products being of even greater use to the legal, professional and public communities. Thank you for your interest in our company.
History of Forster-Long, LLC
Forster-Long, LLC is the publisher of The American Bar and The American Bench. The American Bar has served the legal community by providing a quality reference publication of leading firms around the world since 1918. The American Bench has been the industry standard reference on the American judiciary since 1977. It is considered to be the definitive biographical reference on America's judges in both federal and state courts. The company has gone through several transformations, however, our dedication to the quality of our products has never changed.
The American Bar began publication in 1918, listing ranking lawyers in the United States and Canada. In 1956, an International section was added to the book. Even though the publication is still sometimes referred to as just The American Bar, even in international circles, it does include listings of firms in over 100 countries.
James Clark Fifield and colleagues originally founded the company in 1917 as the James C. Fifield Company to publish The American Bar. Reginald Bishop Forster became president of the Company in 1937, and in 1963 changed the company name to Reginald Bishop Forster & Associates, Inc. In 1967, Jay Long joined Reginald Bishop Forster & Associates, Inc. Jay became president of the company in 1973 and then purchased the company in 1983. He moved the company to Sacramento and changed the name to Forster-Long, Inc. In 2009 the, company was sold to a boutique private equity group headed by Ron Schwarz and the company name was changed to Forster-Long, LLC. Ron runs the company today as its managing director.
The Company continues to make improvements to meet the needs of today's legal market. We welcome any comments and suggestions you may have. Please contact us if you have any feedback for us about the products or this site.