The American Bar
Classic Main Volume Set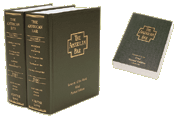 THE AMERICAN BAR including Lawyers of the world focuses on spotlighting the most prestigious firms in the world and providing a reliable source for those seeking top legal counsel. It has done so since 1918. When looking for the finest firms in any particular geographic or practice area, this is the perfect resource.
The Classic Main Volume Set includes two hard cover volumes and the companion Reference Handbook.
Comprehensive & Easy-to-Use
Comprehensive Information: The Classic Main Volume Set contains comprehensive information on each listed firm. Each listing includes areas of law practiced, biographical data for firm partners (names, place and year of birth, court admission and year, and college and legal education with degrees and dates), office address and telephone information. Many firms also include additional information such as firm history, representative clients, notable cases, website address, and attorneys e-mail addresses.
Timesaving Features: The Individual Attorney Index and Firm Name and Location Index make finding the information you need fast and easy. The Practice Areas Index is a simple way to locate a firm practicing a specific area of law.
Special Sections/Features: Selected State Administrative Offices, Patent and Trademark Agents outside the U.S. and Canada and International Legal Descriptions provide additional information of value, conveniently located.
Intuitive Design Users can find their way around the publication, and to the firms they are looking for, easily. There is a Users Guide that provides helpful tips for those who want to take full advantage of all the features available.


Reference Handbook
The abridged version of the main volume set provides a quick reference to critical information such as firm name, members, location, contact information including website address and attorney e-mail addresses when provided. The handbook is distributed with the Main Volume Set and separately. It is perfect to keep in your office, personal library or on your desk.
To search The American Bar free of charge, click here
Request Your copy of
The American Bar Now